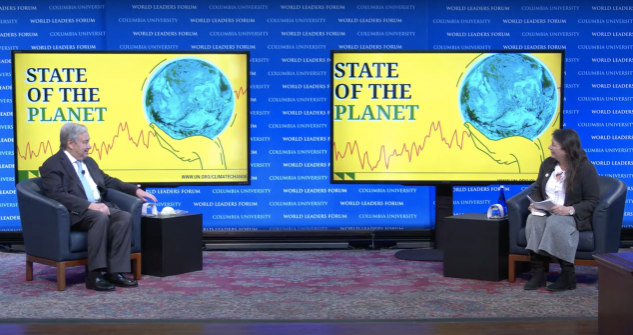 Maureen Raymo, interim director at Columbia University's Lamont-Doherty Earth Observatory, leads a question-and-answer session with U.N. Secretary-General António Guterres.
United Nations Secretary-General António Guterres, appearing at the Columbia World Leaders Forum on Wednesday, outlined the stakes of the climate change crisis in stark terms.
"To put it simply, the state of the planet is broken. Making peace with nature is the defining task of the 21st century," said Guterres. "The central objective for the United Nations for 2021 is to build a truly global coalition for carbon neutrality."
Columbia University President Lee Bollinger created the World Leaders Forum 17 years ago to bring leaders from countries and organizations to campus to engage in discussions related to the major issues of our time. On Wednesday, Columbia continued the program, featuring the U.N. secretary-general as keynote speaker.
The spotlight on global climate response comes at the university moves forward with its plan to launch the Columbia Climate School. In his opening remarks, President Bollinger repeated the importance of the new climate school, the first new school to be established at the university in a quarter century.
"For our part here at Columbia, we have long been at the forefront of discovery of climate science and policy. The very idea of global warming began here with our scientists. We have some of the very best researchers in the world working at Lamont-Doherty Earth Observatory, through the Earth Institute, and across the university," said Bollinger.
- end -