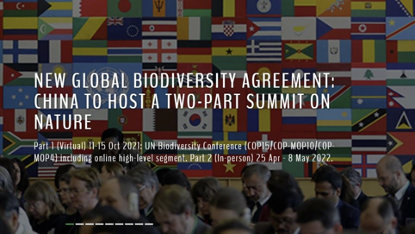 The much-anticipated CBD COP15 (the 15th meeting of the Conference of the Parties to the Convention on Biological Diversity) is going to be held in Kunming this October!
To maximize the progress of the meeting while considering the uncertainties brought by COVID-19, the CBD COP15 in Kunming is just the first part of the UN Biodiversity Conference, followed by an in-person meeting in April 2022 to conclude negotiations, decide on new Post-2020 Global Biodiversity Framework.
As one of the many areas that have close interconnection with climate change, biodiversity is both affected by climate change and could contribute to #climatemitigation and #climateadaptation. To emphasize and advance the synergistic effect of climate and biodiversity, Climate X Nature/Biodiversity is one of the main themes of the Global Youth Summit on Net-Zero Future initiated by GAUC. The Secretariat of GAUC is also going to host a parallel forum during the CBD COP15 in Kunming this fall, which is one of the series events building up to the momentum of the summit during the COP26 by UNFCCC.
What is your academic interest regarding biodiversity, nature, and the interrelations they hold with climate? Submit your idea by 12th September at http://climatex2021.gauc.net/
- end -