The winners of a competition organized by the Grantham Institute and Imperial Enterprise Lab on behalf of the Global Alliance of Universities on Climate (GAUC) have presented their solutions to tackle the climate crisis at the Awards Ceremony of the Global Youth Summit on Net-Zero Future (Climate x Summit) on Nov 05, in the Blue Zone of COP26.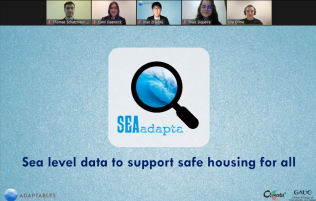 Tracking the Impact of Rising Sea Levels
The Adaptables, a multi-institution team formed by ZHANG Xiao from the University of Tokyo, Ella Orme and Cami Daeninck from Imperial College London, and Thaís Siquera and Thomas Sá from Federal University of Rio de Janeiro, impressed the judges with their proposal for an interactive app – SEAadapta – that provides insights and scenario modelling to individuals, business and government agencies on the likely impact of rising sea levels on coastal and inland infrastructure.
The team's winning pitch topped a varied list of entries that were evaluated by judges including Tina Birmpili, Deputy Executive Secretary for the United Nations Convention to Combat Desertification, and Albert Cheung, Head of Global Analysis at BloombergNEF.
Ms Birmpili, who is an Imperial alumnus, said: "It has been deeply rewarding to take part in the judging panel for this Hackathon, in which students from different backgrounds and diverse cultural backgrounds demonstrated passion, commitment, innovation, teamwork and fun.
"Congratulations to all of the teams who took part, and thumbs up to The Adaptables, who through their app are empowering the public – all of whom are affected by climate change – to make informed decisions about how to adapt."
The ClimateX Hackathon 2021
Held virtually over the last week in October, the ClimateX Hackathon 2021 was a part of GAUC's Climate x Summit and involved students drawn from across the GAUC partner institutions – 15 universities in the Americas, Europe, Asia and Africa. Seven universities within the GAUC sent delegates to the Hackathon.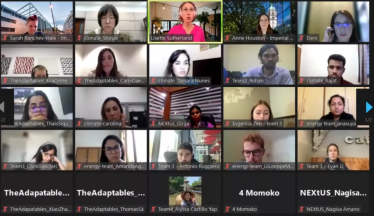 Teams were tasked with creating innovative ideas for products or solutions that address the climate emergency and contribute to UN Sustainable Development Goal 13: Climate Action. Solutions generated included tools for practical action, methods to encourage behavioural changes, and communications proposals to help inform the public about the likely impacts of a changing climate.
Imperial's Grantham Institute - Climate Change and the Environment and Imperial Enterprise Lab worked with partners to deliver sessions on identifying problems, generating solutions, and clearly presenting innovative ideas. Teams were formed across institutions and were mentored by representatives of the GAUC partners, members of BloombergNEF, and experts from Imperial Venture Mentoring Service.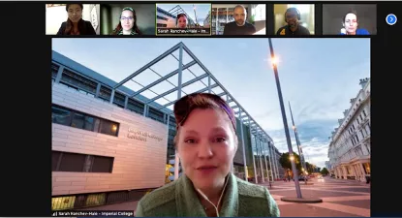 Following the hackathon, teams produced a short video showcasing their ideas and solutions. These were presented to a distinguished judging committee who assessed the overall strength of the entries. The winning team's videos were shown at COP26 in a space where international officials, policymakers and negotiators gather, with the two runners-up also on display.
All of the pitching teams' videos can be viewed on: https://vimeo.com/showcase/8988463
Alyssa Gilbert, Director of Policy and Translation at the Grantham Institute - Climate Change and the Environment, said: "These students have demonstrated the power of collaboration, creativity and ingenuity across borders and disciplines, inspiring us all with their ideas of solutions that tackle climate change and also deliver other benefits at the same time."
Reposted from Imperial College London with edits.
Read the original article at Imperial website
- end -