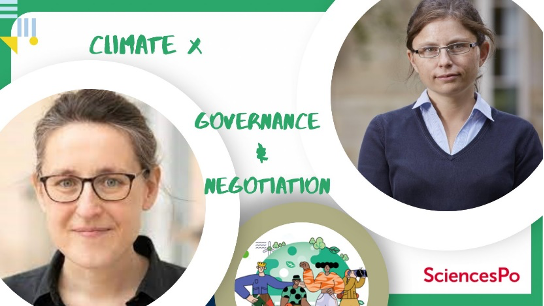 The 'Climate x' Leadership Training Pilot ('Climate x' Pilot) hosted by Global Alliance of Universities on Climate (GAUC) finished the first two courses provided by Sciences Po about Climate Governance and Negotiation on July 2nd.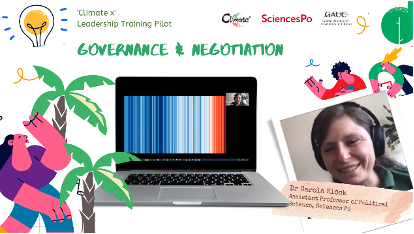 Dr. Carola Klöck, assistant professor of political science at Sciences Po, brought the first lecture. The ambassadors first worked in groups to complete a timeline of climate politics. All are actively engaged in the discussion around the topic, both via the zoom chat room and during the group discussion sessions. Then, Dr. Klöck guided the ambassadors to think about inequality in climate negotiations and its impacts. She mentioned that there have been some major achievements despite vast inequalities and diverse interests. The last section was about the key demands of COP26, mainly mitigation, climate finance, adaptation, and loss and damage. The first courses ended with ambassadors sharing their views and expectations for COP27.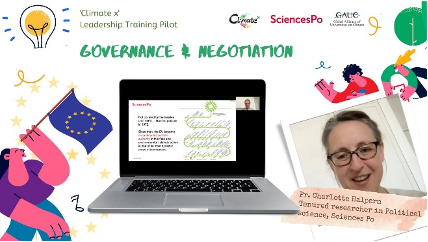 The ambassadors moved to Climate Governance in the second course. Prof. Charlotte Halpern, a tenured researcher in political science at Sciences Po started the course with the EU's role in addressing climate change issues. She explained the EU's climate governance by introducing the European Green Deal. She indicated that the goal of the European Green Deal is to move toward a clean and circular economy by promoting the efficient use of resources, as well as preventing climate change, restoring biodiversity loss, and reducing pollution.
When it came to the challenges of delivering the Green Deal, problems like policy focus, historical emissions, and offshore production emissions were addressed. Prof. Halpern especially emphasized the importance of implementation. According to Intergovernmental Panel on Climate Change (IPCC), the current implementation gaps are the ones that matter the most in the coming years. At the discussion session of the course, the ambassadors enthusiastically exchanged ideas focusing on the EU's partnership on eight topics: smart and green infrastructure, sustainable food systems, and so on.
Co-initiated by Sciences Po and Tsinghua University, the 'Climate x' Pilot is a joint educational project of GAUC's 15 member universities and the world's first youth climate leadership training project that convened the strength of global leading universities across 6 continents. Composed of interdisciplinary lectures by leading experts and cross-culture group projects, the pilot program aims to provide a systematic curriculum to help the next generation to take the lead in tackling climate change challenges, especially with an interdisciplinary perspective on SDGs.
On July 9th, Prof. Martin Siegert at Imperial College London and Prof. Pedro Rochedo at Federal University of Rio de Janeiro are going to shed light on Climate x Finance with GAUC ambassadors.
Reporter: Yuhan Soo
- end -