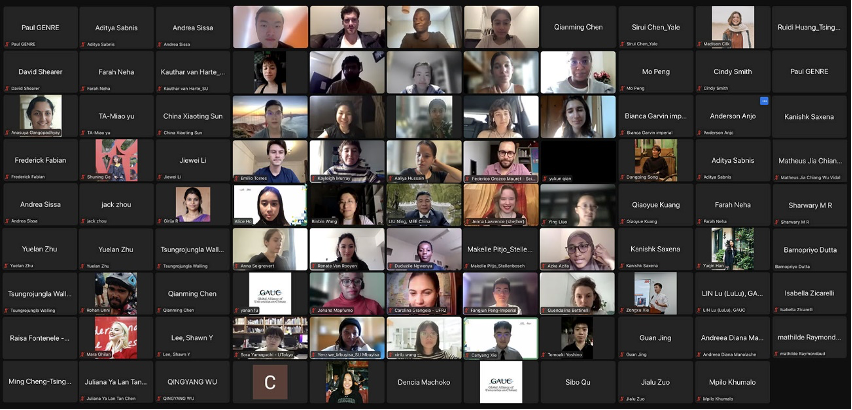 What is the relationship between climate change and nature, biodiversity and food? On July 23, Global Alliance of Universities on Climate (GAUC) ambassadors explored this topic with Dr. Jenna Lawrence, lecturer and instructor at the Center of Environmental Research and Conservation at Columbia University, and Dr. WANG Binbin, research fellow and social scientist at the Institute of Climate Change and Sustainable Development, Tsinghua University (ICCSD), as well as executive secretary general of GAUC. GAUC was also honored to have Mr. LIU Ning, the deputy director general level officer at the Department of Nature and Ecology Conservation of the Ministry of Ecology and Environment of China, negotiator for the Convention on Biological Diversity (CBD) COP 15, and deputy representative of the COP 15 president, to share China's practices regarding biodiversity conservation.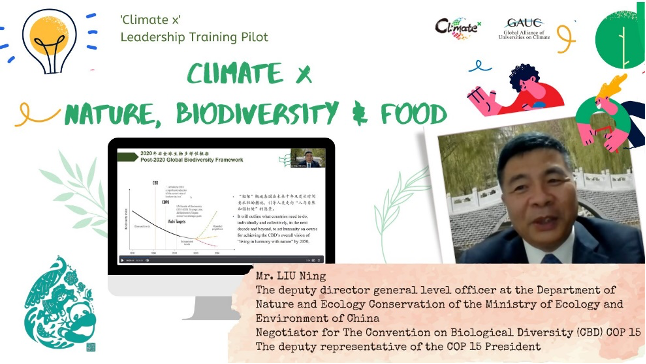 Mr. Liu opened the lecture by introducing biodiversity conservation in China. Ambassadors from different continents were amazed by the rich and diverse ecosystems in China. He examined the achievements of the first phase of COP15 before touching on the progress we should expect out of the coming second phase. He also shed light on the post-2020 Global Biodiversity Framework (GBF), the blueprint for global biodiversity conservation over the next decade. After his speech, Mr. Liu answered the ambassadors' questions regarding a variety of issues, such as the GBF's monitoring Framework, difficulties in negotiation, and Chinese experiences in incentivizing conservation.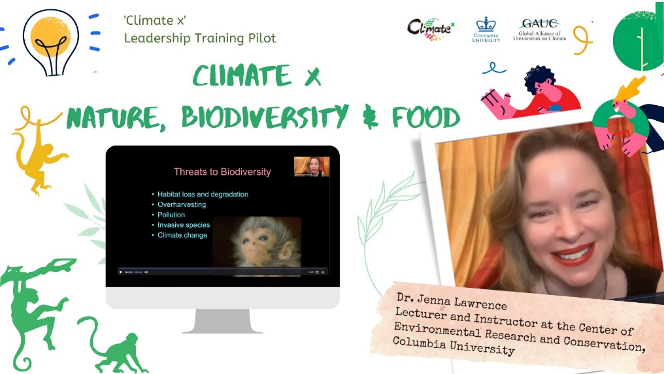 When the lecture came to its second section, Dr. Lawrence showed the class her research on biodiversity and her insights regarding the synergy between climate change and biodiversity. She started her lecture with the fundamental currency of biodiversity: genetic diversity. The assessment report published by the Intergovernmental Science-Policy Platform on Biodiversity and Ecosystem Services (IPBES) was introduced to show the current situation. Dr. Lawrence mentioned that a loss of biodiversity will lead to a system with a lot of species that have similar ecosystem functions, and thus reduce their overall resilience. She used wetlands as an example of valuing the ecosystem. She went through the six threats to biodiversity one by one and pointed out the regime change in biodiversity conservation: the role of humans shifting from a passive recipient of the ecosystem services to a proactive protector and manager.
Dr. Wang took the lecture from there to shed light on Nature-based Solutions (NbS). She explained the development of NbS from both academic and political perspectives, followed by the introduction of her latest research "Nature-based Solutions to Climate Change: Global Case Review 2021," which brought multi-level stakeholders together and was released at the CBD COP15 last year. She also emphasized the importance of utilizing the research outcomes to generate broader social impact. At the end of her lecture, Dr. Wang encouraged the ambassadors to explore the real world and be a voice to make history by sharing her own experience.
In the discussion session, the ambassadors discussed a variety of topics with Dr. Lawrence and Dr. Wang, such as the change of genetic biodiversity in genetically engineered foods, challenges in promoting biodiversity conservation, challenges in incentivizing investment, actual NbS cases, and monoculture afforestation.
Before the lecture, Dr. Wang reviewed the thematic forum of the 2022 World Youth Development Forum (WYDF), the first international arena GAUC provided to the ambassadors. GAUC Ambassadors Sampada Sudheesh Venkatesh from Oxford University and Xie Canyang from Tsinghua University joined with Alice Ho, GAUC Chief Youth Officer as panelists to talk about the younger generation's role in addressing climate change at one of the Youth Dialogues during the thematic forum, focusing on youth empowerment for a sustainable future. Xie Zongxu, another GAUC Ambassador and also a youth representative from the College Alliance for Young Ambassadors moderated the dialogue. Other ambassadors also took the initiative to join as delegates in the WYDF.
Co-initiated by Sciences Po and Tsinghua University, the 'Climate x' Pilot is a joint educational project of GAUC's 15 member universities and the world's first youth climate leadership training project that convenes the strength of global leading universities across 6 continents. Composed of interdisciplinary lectures by leading experts and cross-culture group projects, the pilot program aims to provide a systematic curriculum to help the next generation to take the lead in tackling climate change challenges, especially with an interdisciplinary perspective on SDGs.
On July 30th, Dr. Xie Chunping from the London School of Economics and Political Science and Prof. Shoibal Chakravarty from the Indian Institute of Science are going to present the next lecture: 'Climate x' Secure and Sustainable Energy.
Reporter: Yu Han Soo
Editor: Jeffrey Tykot