On July 3rd, the "Climate x" Leadership Training Program 2023 ('Climate x' 2023), co-hosted by Global Alliance of Universities on Climate (GAUC) and the Asian Universities Alliance (AUA), completed its first course on Global Climate Governance, delivered by experts from Sciences Po.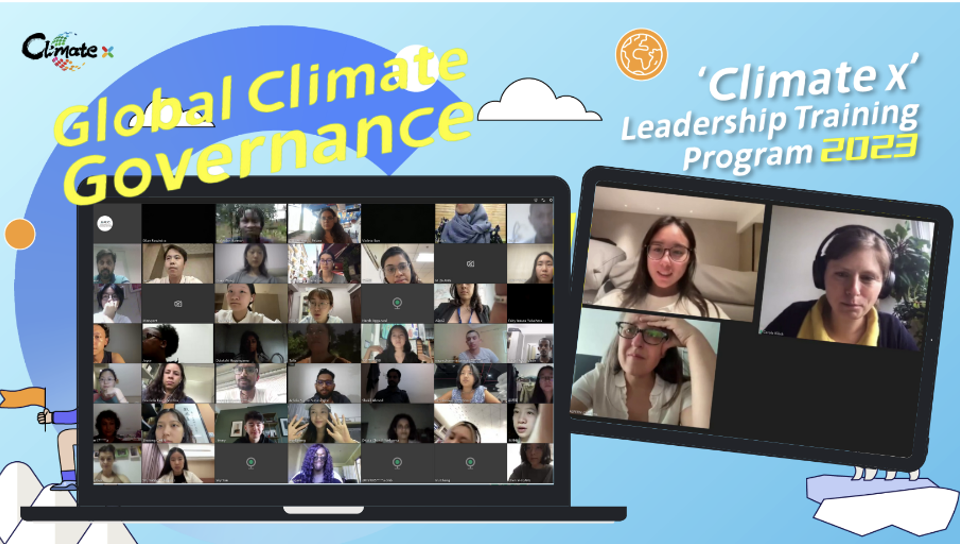 Prior to the live workshop, Dr. Carola Klöck, Assistant Professor of Political Science at Sciences Po, provided a pre-recorded session on the topic of global climate negotiation. This session provided a brief introduction to the UN climate negotiations, including the history of the negotiation process, an examination of different inequalities and their impact on negotiation dynamics, and an overview of key issues currently under discussion in the negotiations.
The other pre-recorded session focused on the European Green Deal, presented by Prof. Charlotte Halpern, a tenured researcher in political science at Sciences Po and a specialist in comparative public action. In her pre-recorded session, she provided a brief introduction to the European Union Green deal, covering EU's historical role as an environmental leader, the Green Deal itself, and the challenges involved in implementing this policy agenda.
The live workshop session of the course was hosted by Alice Ho, the Chief Youth Officer of GAUC. College students from different time zones enthusiastically joined the online session and actively raised questions. They not only focused on the EU's Green Deal and global climate negotiation but also explored how young people can take action in the process of climate governance and plan for future careers in this field. Dr. Klöck and Prof. Halpern patiently and professionally answered their questions, guiding them toward future climate action.
The Climate x Leadership Training Program 2023, co-hosted by the Global Alliance of Universities on Climate (GAUC) and the Asian Universities Alliance (AUA), is open to college students globally.
By emphasizing the synergy between climate change and other UN Sustainable Development Goals (SDGs) and adopting a 'Train the Trainer' approach through the combination of interdisciplinary lectures, diversified workshops, and engagement practices, the training program aims to empower the next generation to take innovative actions and unlock their potential to contribute to a net-zero future.

On July 6th, the trainees will delve into the topic of 'Climate x' Disaster, where Prof. Kei Yoshimura from the University of Tokyo, Prof. Aruna Napayalage from the United Arab Emirates University, and Prof. Deepthi Wickramasinghe from the University of Colombo will shed light on this field.
Reporter: YAO Fanghong
Editor: Cary Lee
- end -