On September 15th, 2023, the 'Climate x' Leadership Training Program took its students who were in Beijing to the Mercedes-Benz Research & Development China to learn about the strategy and technology of the global leading carmaker in regards to sustainable mobility. The field trip, supported by the Mercedes-Benz Star Fund, is a part of the 'Climate x' Training program's activities designed to empower its students to assume the historic role of future leaders in a net-zero future.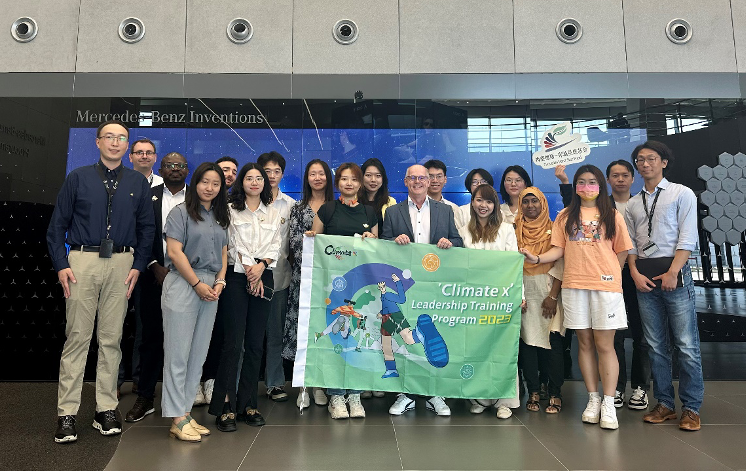 The automobile industry plays a key role in steering our society toward a sustainable future, not only through emission reduction but also by implementing sustainable management across its value chain. During the workshop of the field trip, executive and experts from Mercedes-Benz shared their experiences and insights about how the industry is contributing to solving the challenge of climate change.
Prof. Dr. Hans Georg Engel, the Senior Executive Vice President and Head of Mercedes-Benz China Product and Project Steering, Vehicle Integration, briefly introduced the sustainable landscape of the auto industry and Mercedes-Benz's endeavor throughout its history. Dr. Li Xiaojian, Section Lead of Environmental Sustainability, and Mr. Ao La, Project Manager of Battery Circular Economy, then delved into the technological aspects from the perspective of material development and battery recycling. After the workshop, the participants also had the opportunity to tour some of the labs in the Center.
Xu Qixuan, an undergraduate student at Tsinghua University, was impressed by Mercedes-Benz's comprehensive and far-reaching sustainable development strategy. Lionel Mbanda from North China Electric Power University expressed that Mercedes-Benz places sustainability at the core of its strategy, encompassing aspects such as raw materials, manufacturing, and the supply chain. On the other hand, Liu Lu from the University of International Business and Economics was touched by the carmaker's attention to talent cultivation.
In addition to organizing field trips that enable students to explore sustainable practices across various industries, the 'Climate x' Training program has also launched the 'Youth Mentor Lecture Series' and the 'Guest Speaker Lecture Series.' Since the beginning of August, representatives from the 2023 GAUC Global Youth Ambassadors and guest speakers from GAUC's partners, joined these lectures and shared their unique insights with the program's students to expand their understanding of the challenges posed by climate change.
Reporter: Fanghong YAO
Editor: Cary Lee
- end -