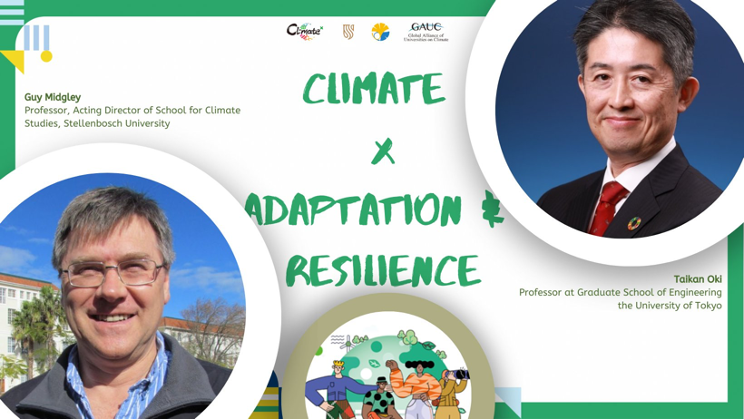 In the blink of an eye, the Global Alliance of Universities on Climate (GAUC) ambassadors are halfway through the 'Climate x' Leadership Training Pilot ('Climate x' Pilot). On July 16, Professor Guy Midgley at Stellenbosch and Professor Taikan Oki at the University of Tokyo co-led the lecture focusing on Climate x Adaption and Resilience for the GAUC Global Youth Ambassadors.
Prof. Midgley picked up from last week's lecture to discuss the importance of addressing and adapting to anthropogenic climate change. He shared inspiring figures about the relationship between potential niche spaces in modern society, rainfall, and temperature. Leveraging his extensive experience as coordinating lead author for the IPCC report, Prof. Midgley also introduced the IPCC risk framework that comprises hazards, vulnerabilities and exposure. The framework also shows a representation of adaptation limits that help countries negotiate and allocate funds for adaptation issues. At the end of the lecture, he introduced the key concepts from the latest IPCC report, which boiled down to the "risk-solutions-transformation" system. He mentioned that this latest system that involves humans and nature is even more dynamic from the perspective of science.
During the following discussion session, the ambassadors explored a series of challenging topics, such as "how the modern social structure will affect the climate change risks" and "how to strengthen the Paris Agreement to enhance adaptation.". Prof. Midgley also thoroughly answered the ambassadors' questions.
The lecture was handed over to Prof. Oki to share his insights regarding climate resilience from the perspective of hydrology. He started the lecture with a photo of children carrying water that he took in Mali in 2010. He first introduced the United Nations Millennium Development Goals to increase access to safe drinking water, then he asked several questions to lead the ambassadors through his content, including the uneven distribution of water resources, the concept of virtual water, and future freshwater availability under various Integrated Assessment Model scenarios. Last but not least, he talked about how the synergy between climate change actions and social development could lead to a better future.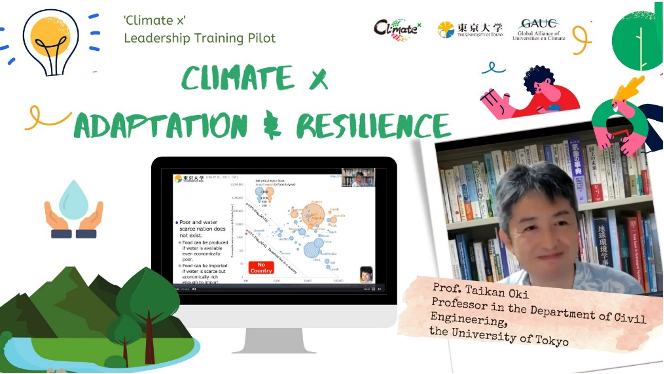 Prof. Oki then answered ambassadors' questions regarding global actions to reduce water safety issues, public or private suppliers, headwater conservation, and a governance model that could provide basic drinking water to small communities, among others.
Co-initiated by Sciences Po and Tsinghua University, the 'Climate x' Pilot is a joint educational project of GAUC's 15 member universities and the world's first youth climate leadership training project that convenes the strengths of global leading universities across 6 continents. Composed of interdisciplinary lectures by leading experts and cross-culture group projects, the pilot program aims to provide a systematic curriculum to help the next generation to take the lead in tackling climate change challenges, especially with an interdisciplinary perspective on SDGs.
On July 23rd, GAUC Executive Secretary-General Dr. WANG Binbin and Dr. Jenna Lawrence of Columbia University are going to bring their interdisciplinary insights regarding Climate x Nature, Biodiversity & Food.
Reporter: Yu Han Soo
Editor: Lin Lu, Jeffrey Tykot
- end -