On July 30, the 6th 'Climate x' Pilot lecture, focusing on Climate x Secure and Sustainable Energy, was successfully held. Thanks to the suggestion by the lecturers, Dr. Xie Chunping, policy fellow at LSE's Grantham Research Institute on Climate Change and the Environment, and Dr. Shoibal Chakravarty, visiting professor at Divecha Centre for Climate Change, Indian Institute of Science, the lecture featured recorded videos provided in advance for the GAUC Global Youth Ambassadors to gain a basic understanding of the topic, as well as a live panel discussion on Saturday, together with Danae Kyriakopoulou, senior policy fellow at LSE's Grantham Research Institute, Ulka Kelkar, director of the Climate program at World Resources Institute (WRI) India and Bob Ward, policy and communications director at LSE's Grantham Research Institute.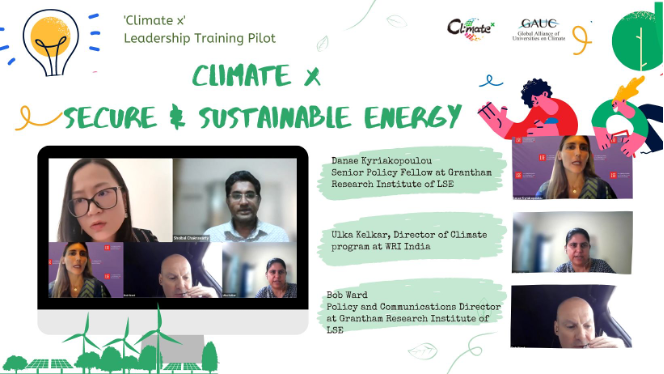 In the recorded videos, Dr. Xie illustrated energy economics and energy transition from a top-down perspective and introduced the Kaya identity, a mathematical framework assessing the global CO2 emissions from human sources like the economy, population, and energy consumption.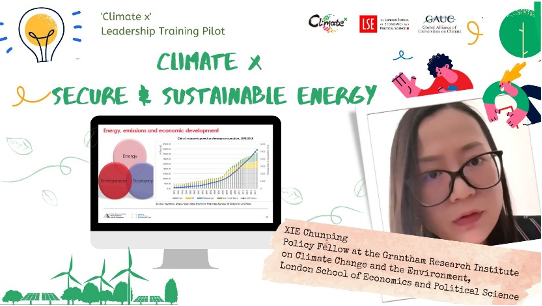 Dr. Chakravarty looked at the sustainability and security of energy supply from the point of reference of an individual and household. He also emphasized that energy affordability and the sustainable and secure supply of energy were two sides of the same coin.
At the panel discussion, Dr Xie, Dr. Chakravarty and the invited panelists discussed diversified topics regarding the synergy between climate change and secure and sustainable energy, such as India's research progress in response to the recent extreme heat event, the impact brought by climate change over wind and solar power, the investment in new energy, as well as nuclear power.
The lecture marks the conclusion of the thematic lecture of the Climate x Pilot. On August 6th, United Nations Youth Leadership Development Program, the content partner of the Climate x Pilot Program, is going to share with the GAUC Ambassadors the theory and practice of leadership.
Co-initiated by Sciences Po and Tsinghua University, the 'Climate x' Pilot is a joint educational project of GAUC's 15 member universities and the world's first youth climate leadership training project that convenes the strength of global leading universities across 6 continents. Composed of interdisciplinary lectures by leading experts and cross-culture group projects, the pilot program aims to provide a systematic curriculum to help the next generation to take the lead in tackling climate change challenges, especially with an interdisciplinary perspective on SDGs.
Reporter: Yu Han Soo
Editor: Jeffrey Tykot
- end -