On July 20th, the 'Climate x' Leadership Training Program 2023 ('Climate x' 2023), co-hosted by the Global Alliance of Universities on Climate (GAUC) and the Asian Universities Alliance (AUA), successfully held a live workshop focusing on health.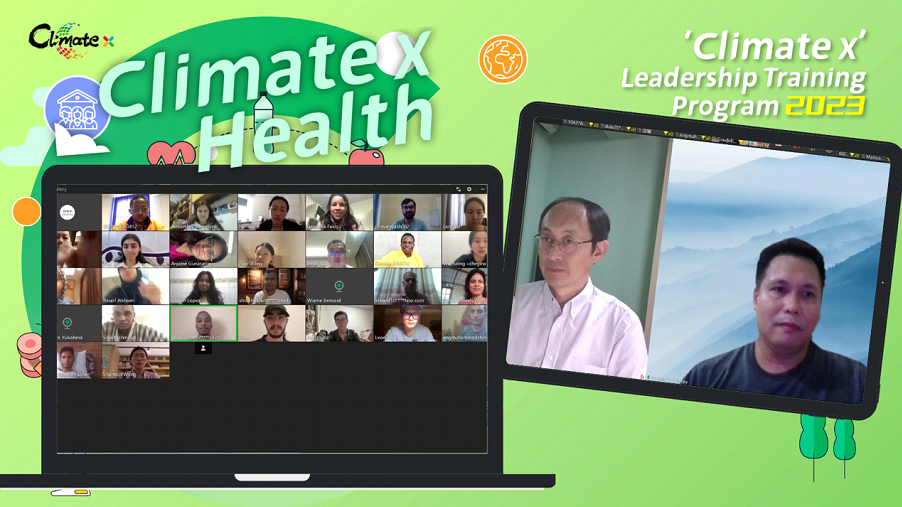 Prof. Mannix P. Balanay from Nazarbayev University presented a recorded session on the topic of a planetary prescription for climate and health. The course addressed the profound connections between climate change, human health, and the transformative power of chemistry. He also illuminated the urgent need for comprehensive action to mitigate climate risks and promote a healthier future for our planet and its inhabitants. Prof. Mannix P. Balanay mentioned that chemistry plays a central role in studying the intricate connections between climate change and human health. Through various chemical processes and analyses, researchers could uncover important information about the causes, impacts, and potential solutions to mitigate climate change and its effects on health.
The video lecture by Prof. Masahiro Hashizume, from the University of Tokyo, delved into the crucial issue of climate change and its profound effects on human health. Climate change brought about environmental transformations, including global warming and increased natural disasters, with far-reaching consequences. He introduced that our goal was to enhance the understanding of the specific health impacts caused by climate change, ranging from direct effects like heat-related illnesses to indirect consequences such as food insecurity and the spread of infectious diseases. By exploring these topics and discussing mitigation and adaptation strategies, we aimed to raise awareness and foster a proactive approach in addressing the health implications of climate change at individual and societal levels.
The live workshop session of the course was hosted by Alice Ho, the Chief Youth Officer of GAUC. Students and the two professors discussed how climate change can have negative effects on the public health of vulnerable populations and communities. They also discussed the current innovative technology and methods that can work for an early warning system and targeted interventions. Then they actively talked about approaches to reduce and mitigate the impacts of climate change on health and have reached a consensus that it's urgent to take GHG reduction actions and raise awareness and education campaigns.
The Climate x Leadership Training Program 2023, co-hosted by the Global Alliance of Universities on Climate (GAUC) and the Asian Universities Alliance (AUA), is open to college students globally.
By emphasizing the synergy between climate change and other UN Sustainable Development Goals (SDGs) and adopting a 'Train the Trainer' approach through a combination of interdisciplinary lectures, diversified workshops, and engagement practices, the training program aims to empower the next generation to take innovative actions and unlock their potential to contribute to a net-zero future.
On July 27th, the youth trainees will move to the last interdisciplinary lecture, focusing on Climate x Sustainable Fashion. The course is provided by Prof. Eri Amasawa from The University of Tokyo and Ms. Geraldina Vallejo and Ms. Pauline Pigott from the Kering group.
Reporter: YAO Fanghong
Editor: Cary Lee
- end -